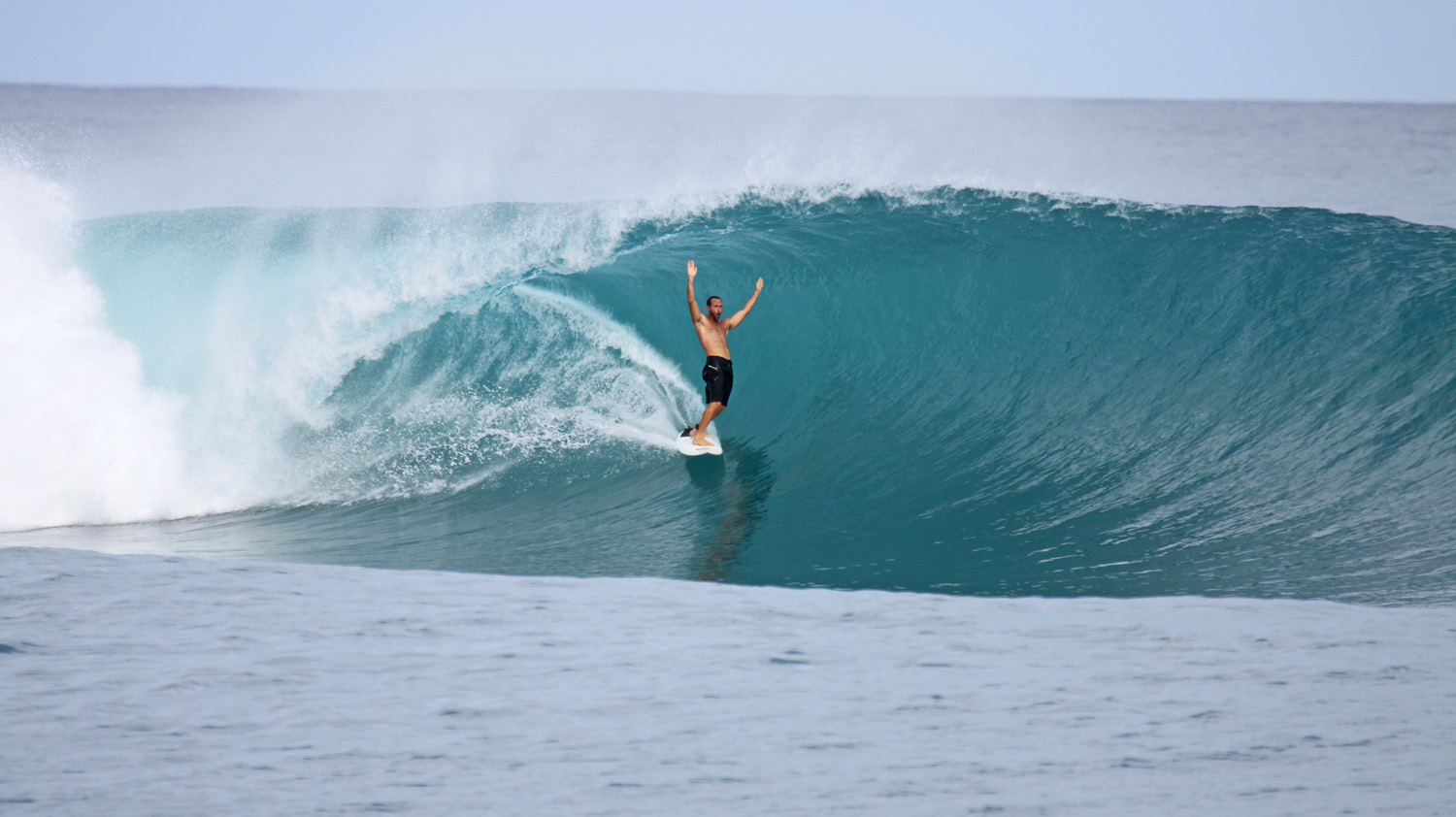 Surfing Lanzarote Famara La Santa Ghost Town San Juan and many more
Surfing in Lanzarote
There are fantastic waves for all levels on the island.
Long known as the 'Hawaii of Europe' Lanzarote offers plentiful surf for all levels. Located on a chain of volcanic islands in the Atlantic ocean means the island is exposed to incoming waves from many directions. No continental shelf surrounding the islands allows the full power of waves to arrive at the beaches or reefs.  A warm climate also means warm water. In late Summer and early Autumn means no wetsuit needed. From beginner to experienced surfer, small waves to super large and heavy Lanzarote has waves for all.
Famara beach
For surfers new to the sport the best known beach is Famara. The town has lots of surf shops selling and hiring surf boards, wetsuits and all associated equipment like leashes and wax. Beside the town is the three kilometre beach of Famara. Most days of the year there are waves on the beach that are perfect for learning to surf.
You can bring your own equipment, hire surf boards and wetsuits or take surf lessons from the many surf schools located in the town.
Other beaches
On the North Eastern coast is Orzola beach accessible along a track from just outside the town or Orzola.
On the East coast is Arrieta beach. There are facilities here like toilets and restaurants. The East coast gets less waves.
Advanced Surfing waves
Experienced surfers like to surf reefs. These are rock bottomed waves that break consistently in the same place and way with more power. Waves change daily even at the same spot and can be dangerous. Often they look smaller than they are.
Lanzarote's advanced surfing spots
La Santa right
The most consistent spot on the island. Right hand wave over reef and rounded pebble like rocks that are super slippery with urchins down the gaps.
Breaks from two feet to very very big, like six times your height. On very large Winter days jet skis are used to tow surfers into the beasts.
This is the most popular wave for visiting experienced surfers. It gets lots of swell and is often sheltered from the wind. Entry over slippery rocks, be careful of urchins and dinging your board. Watch where other enter and leave the water.
Lots of take off points and sections. Locals tend to sit further up and closer to the point. Wider sets can be the better option until you get used to the spot.
El Quemao
Located just behind the La Santa village harbour. Mainly a left but also good rights on its day. Very powerful with localism. Paddle out and in via the harbour. If no one is out think twice. There is always a set that catches you out. Amazing barrels and adrenaline filled rides.
The Slab
Probably the best and most consistent wave on the island. Super local scene here, if they don't know you its tricky. Powerful wave with open barrels left and right, left longer. Located between the La Santa right and El Quemao with car park in front. Low tide a no go.
Complex Left
Long big heavy left hand wave located to the North side of the La Santa island by the La Santa complex. Parking on the road in front. Inside wave that is consistent and fun. Outside wave starts further up the point. Big surprise sets. Amazing on its day with some sections.
Ghost town or Caleta Caballo
This town is found just a few kilometres up the coast from La Santa. There are two waves here. The right which is a very good and challenging wave breaking at low tide. Then chicken left which likes high tide.
San Juan
Located West of Famara along a track. Amazing left hand wave with barrel section. Not so good at high tide. Steep take off then race the centre section and get barrelled. Can be heavy and tricky if caught inside.
Other surf spots
Lanzarote is full of waves that break depending on the wind and swell direction. If you find a new spot take great care and wonder why no one else is out.
Learning to Surf in Lanzarote
If you want to learn how to surf the best and safest way to start is with some surf lessons in Lanzarote.
In the town of Famara there are lots of surf schools you can contact and organise your lessons. The surf schools will supply all the equipment and advice then give a two hour supervised lesson.
Dealing with dangerous rips
Every year many sea users fall fowl of rips and currents in the sea. Even experienced people get into trouble. Once you understand what causes a rip and how to escape them its a simple task. This video explains.